Is selecting the cheapest contractor the best option for your project?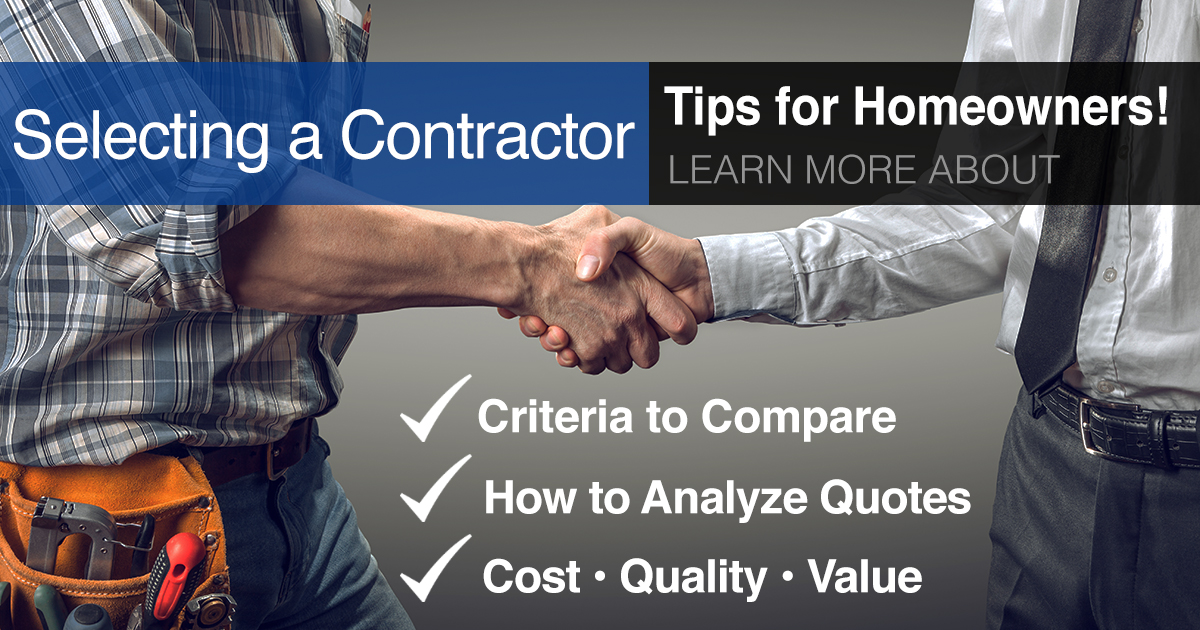 Selecting the cheapest contractor may not always be the best idea for your next remodeling project. While price is certainly a factor, there are other important factors to consider. This article provides 5 easy steps to selecting the best contractor for your project.
Of course, everyone is interested in getting the best price. However, do not let a cheap estimate lure you into the nightmare of working with a bad contractor. Chances are if the price is too good to be true, it probably is.
Here are some steps you can take to avoid selecting the wrong contractor.
Step#1 Have plan and/or project scope.
Before meeting with any contractors, be sure that you have a scope identified for your project. This should include a plan. Yes, an actual drawn out plan that includes general notes on what items you expect to be delivered as part of your project. While nobody expects you to have a perfect architectural drawing to get a permit. However, having a plan will allow you to have similar conversations with the various contractors. This will allow you to compare apples-to-apples on line items and relative costs.
Step#2 Establish Contractor Selection Criteria & Create a Shortlist of Local Contractors to Get Bids From.
The following criteria provides relevant points that could help you identify contractors worth considering to hire for your project. You may even want to create a "grade sheet" that contains columns and rows allowing you to grade a contractor per criteria.
Contractor Reputation: It's important to choose a contractor with a good reputation and positive reviews from previous clients. Take time to review their Google Reviews and any other reviews on any similar social platforms.
Quality of work: Is the contractor you are considering able to exhibit the quality of work he is able to provide. You want to make sure the contractor you choose will do a good job and deliver the results you want. Therefore, you should review their project portfolio to ensure they have performed similar tasks successfully for other clients.
Experience and expertise: Do the contractors you are considering have in-depth experience in the discipline you are considering to employ them to achieve. Experience includes selecting a contractor that is familiar with local municipal building codes and permit processes. Again, reviewing their website to learn how long they have been in business, and to learn about any certifications, licenses, credentials they may have.
Communication and responsiveness: You want to choose a contractor who is easy to communicate with and responsive to your needs. However, be reasonable. While it would be nice that if they would answer the phone on the first call, or respond to their email quickly, this is not always a good indicator.  A good contractor might be busy due the quality of their work, resulting in popular demand. While the other side of that coin is, if a contractor responds too quickly, perhaps they are not busy because they are

not

quality, and

not

in demand.  Again, be reasonable. Do not be too demanding, bid proposals and estimates do take time. Be sure to allow reasonable time for correspondence.
Availability: You want to make sure the contractor you choose is available when you need them. Again, be reasonable do not expect immediate action, you are not the only show in town. However, do verify that work can be done in a effective and efficient manner. Remember that a busy contractor is often symbolic of a good contractor. While a contractor who appears ready to spring into action, just might be available because demand for their services is low.
Warranty or guarantee: You want to choose a contractor who offers a warranty or guarantee on their work, so you're protected in case anything goes wrong. Again, be reasonable in understanding what you are expecting a warranty on. Just because you paid for a service does not mean this contractor is now your slave standing by to warranty his work for eternity. A reasonable warranty provides some level of support for an established amount of time. However, warranties are not applicable to all types of work. Step 3 of this article may prove handy in determining what types of work are often warrantied, and types of work which are not warrantied.
Step#3 Meet with, and procure estimates from at least three contractors.
Above all items, it is important to make sure that your contractor has a firm grasp of the scope of work.  For this reason, it is good to consult with at least three different contractors. While consulting with various contractors will certainly provide a chance to meet and feel out their professional abilities, it will also provide a glimpse into each contractor's ability communicate. A bonus to meeting with various consultants is that you are likely to learn a bit more informed as a consumer. As anyone of the contractors you meet with, may offer creative ideas or may share an experience they had which maybe relative to your plan or project.  Meeting with various contractors will also allow you to learn if any of the work you are discussing, is typically covered by a warranty.
Step#4 Analyzing and comparing quotes.
When obtaining various proposals, you will realize that most contractors have their own unique way of writing proposals. Some will offer bottom line costs, while some provide line item breakdowns. When possible, it is advisable to achieve a standard bid format for bid submissions. Using a standard bid form that makes comparing bids easier. This is done on larger projects where plans are authored by an experienced design professional. While it would be convenient to have a uniform estimate process, this is not always possible. However, urging your contractors to adhere to a bid proposal format will result in a more consistent proposal format overall.
In any case, all quotes should indicate "unit of measure" and "basis of payment" for each item of work. Some examples for unit of measure are baseboard trim to be measured and paid for by feet, or tile flooring installed to be quoted per square foot. In addition to offering line items and units of measure, a bid form should provide quantities estimated for each item. Together, the line items, unit of measure and quantities make up what your "bid form". The prices quoted for each item becomes the "basis of payment". Having a standard format allows the contractors you are consulting with to simply fill in their bid value per item.   Once you have written proposals that possesses Items, Quantities, Units of Measure and resulting Bid Value, this can serve as your project schedule of prices (SOP).
Once your bids or SOP's are obtained from each contractor, you should be able to compare prices accurately and efficiently.  Again, getting each contractor to follow your bidding process might not be possible.  However, again the hope is that they will be closer and format and thus easier to compare.
Step#5 Comparing the Bottom Line and Revisiting Selection Criteria
Now that you have itemized cost estimates from at least three reputable contractors.  It is time to compare.  Comparing items in an "apples to apples" format may reveal some substantial differences in the bids provided by your contractors. This is where reviewing your proposals is going to take some analyzing.
While some differences in bid values may appear minor and less substantial as it relates to the big picture, even small differences in cost values may reveal a contractor who has more, or less of a grasp on how much time or work a certain line item may take. A more experienced contractor may cost more, but they also may have a better understanding of what is required.
When review the bottom line proposed by each contractor, you should again review the initial criteria provided in step#2.  Now that you have met with and obtained quotes from each, you should analyze and grade them again using the criteria provided above. However, now add price to the bottom of the list of pros and cons.
Quality: Review all work, perhaps the contractor offered additional items not reviewed initially.
Experience: After meeting with the contractor, has your grade or opinion changed on the level of their experience as a contractor.
Reputation:  Now is the time to verify references. Call and speak to past clients. Ask questions about adherence to scope, schedule and budget. If extra costs were realized, were they managed appropriately.
Responsiveness: After meeting with the contractor and gaining a written proposal, has your grade or opinion changed on the level of their communication.
Availability: Considering the quality of work and time of year for the industry. Do you trust their availability is accurate, and does it fit your schedule?
Warranties: Compare any info gained in the proposal process.
Analyze Unit Prices and Total Cost: Compare all costs estimated in the proposal process. Consider the possibilities of any extras, and how unforeseen items are to be addressed.
In conclusion, while cost is an important factor to consider, it should now be clear that cost is not the only factor. Make sure to weigh all the factors carefully before making your decision.  Be sure to have a signed agreement which documents the deliverables of the project, expected time frame of completion and payment schedule. Having a written agreement helps to keep expectations reasonable by all parties.