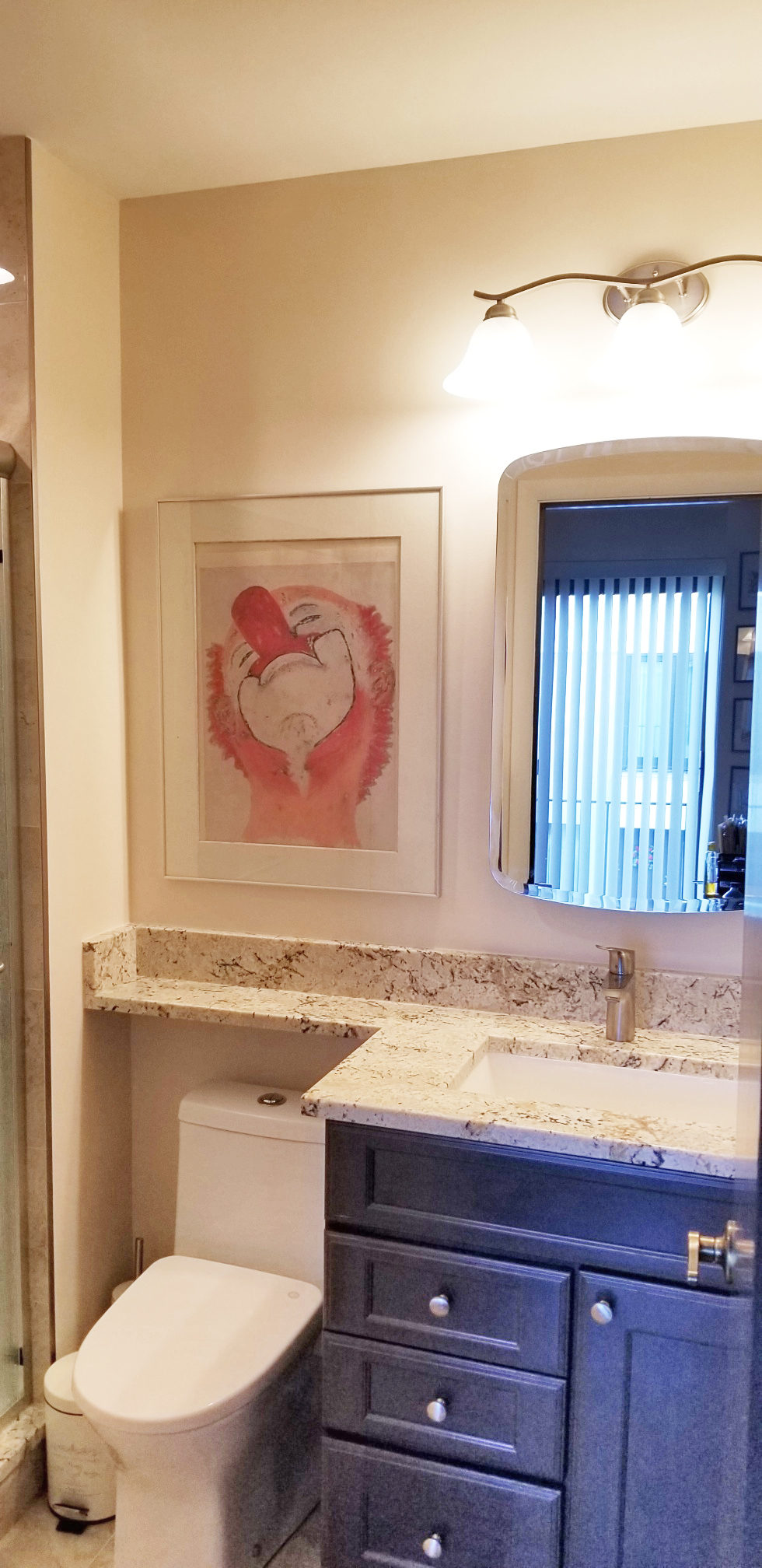 Project Location: Glenview, IL 60025
Project Type: Bathroom Remodeling
A homeowner and her husband in Glenview, IL decided it was time to remodel their 1st floor bathroom. Their existing bathroom was outdated and they wanted to give it a new look. Though this was a smaller bathroom they wanted to upgrade the shower, retile the whole bathroom with new flooring and replace the counter tops. They did not know where to begin to find the best local contractor. So the client jumped on social media. Upon posting in a local Facebook group, she remembered that she saw a post by another member seeking a local remodeling contractor. So she went back to that post and saw that a few members recommended "ALL TECH BUILDERS". So she gave us a call.
Upon meeting with our estimator and viewing images of past projects, this Glenview couple felt comfortable trusting All Tech Builders with their bathroom remodeling project.
This Glenview Bathroom Remodeling project included:
Containment of work area during construction, this isolated the work area during this bathroom remodeling project (draped entrances with zipper access plus sealed air ducts and HVAC returns vents.
Removal and replacement of water damaged drywall
Removal and demolition of old bathroom fixtures including sinks, toilets, bathtubs and showers.
Installation of DuraRock which is strong, water-durable tile base in areas where water use is present.
Sealing coating of DuraRock using waterproof membrane in areas where water use is present.
Installation of new drywall ceilings, soffit covering and walls. New drywalling includes hanging, taping and sanding.
Simple Plumbing Reconnections to Existing Plumbing Fixture performed by Licensed Plumber
Removal of old cabinets, countertops and replacement with new cabinet, and client selected EXTRA THICK granite countertop and splash trim.
Removal of old tile floors, replaced water damaged subfloors as needed and replaced with Durarock to serve as moisture protected underlayment. Then the floor was leveled using self-leveling compound prior to placing new tiles.
New tiles and flooring installed by tile flooring contractor (All Tech Builders)
Removal of old 1/2 inch floor trim and replaced with new 6" wooden floor trim and 1/4" Shoe Board.
Removal of all of the old outdated electrical fixtures and replacement with new Decora Plus Rocker Light Switches and Decora outlets all performed by Licensed Electrician.
Painting of new drywall ceilings, soffits and walls.
Painting of all doors, door trims and floor trim.
Photos from this Recent Glenview, IL 60025 Bathroom Remodeling Project by Local Contractor:
As a local Glenview bathroom remodeling contractor we maintain over 20 years experience of remodeling within the Village of Glenview. This affords our team with understanding of the permit process within the Village. Therefore, we know what work requires permits and what types of work do not require permits. In either case, we can take your remodeling project in Vernon Hills from concept to completion. If you are seeking a local bathroom remodeling contractor in Glenview, IL 60025 to usher you through the process then contact All Tech Builders today!